In Los Bosques we live the unseen to remember the forgotten history of who we are, shaking the waves to look under the cloak of all asleep, where our potentialities, knowledge, capacities, await to live the marvellous journey of knowing ourselves in the infinite dimensions we dwell in and travel.

:::

For those who want to walk being themselves:

Personal reactivator to remember who we are,  relate with our life purpose, synchronize with your natural cycles and unseen worlds.It's built exclusively for each person. In this link you will find additional information on other ways to use it >  DORKHYT
:::

REMINISCENCES > Practical sessions where you are guided to contact with your Self and your worlds, travelling through them and living the unseen. They are not therapies, no hypnosis is applied, no techniques nor doctrinal teachings, only the experience to travel throughout your worlds. Once the memory is activated, you can do it by yourself as many times as you want to. Additional info in this link >   REMINISCENCES
:::
Open contents in Los Bosques:

Shifting Worlds > The transition of our days and times, changes our surroundings and lives are undergoing, seen as new realities determining other roads, other ways, other worlds that are already possible and us inside of them, trying to find ourselves behind apparent chaos and multiplicity of possibilities waiting our presence to transform.
:::

Forgotten Histories of History >
Un-monotheis-izing history, following science, its disciplines (history, archaeology, astronomy, physics, mathematics, geometry, and any other that reveals) to find our past, present, future, parallel footprints… in search of forgotten histories as essential testimony that we are much more than we remember and waiting in the legacy of the peoples.
:::

Synchronizations >   into unseen worlds that are part of our lives, worlds we dwell in and worlds inhabiting us, determining us, ruling us. Natural laws manifesting in cycles: Lunar, Solar, Galactic and other, even Night and Day, movements of the planet on which we navigate sidereal space. Also synchronizing with our own unseen worlds.
:::

Living the Unseen – Life instants in unseen worlds put into words, feeling not thinking. Attempts to share moments common to all of us, experiences that can be taken for granted,   listening to other beings, remembering other languages we use, views of life from the unseen where "what is essential is invisible to the eye" as The Little Prince says.
:::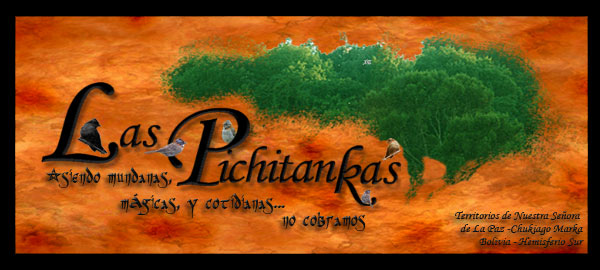 Las Pichitankas > (e-bulletin for last 6 years) Little birds from La Paz who also fill Los Bosques and fly announcing each New and Full Moon, besides sharing forgotten histories and the legacy of the peoples. Its distributed free of charge in Spanish and English. Subscription to Los Bosques guarantees their visit and you will be able to live Lunar months synchronizing to cosmic emanations to be ourselves.
:::
You can receive Los Bosques updates by e-mail, subscribing free of charge at the end of this or any page, or to our >  

RSS Feed
or you can also find us in: